The content below is taken from the original ( Microsoft Teams Meetings Get New Zoom Controls to Improve Screen Sharing), to continue reading please visit the site. Remember to respect the Author & Copyright.
Microsoft has released a new zoom controls feature in preview for Microsoft Teams. This update allows participants to zoom in and out while viewing content on a shared screen in Teams meetings and calls.
Up until now, Microsoft Teams only allowed meeting attendees to use pinch to zoom gesture on trackpads or other shortcuts to view content such as Excel Spreadsheets or PowerPoint presentations. The new zoom controls should be a welcome addition for people with low vision or visual impairment.
"Users in a Teams call or meeting will now see new buttons to zoom in, zoom out and restore the original size of the incoming screen share. This will greatly enhance the experience of users viewing screen share," the Office Insider team explained.
To try out zoom controls, IT admins will have to sign up for the Microsoft Teams public preview program. They will need to configure an update policy in the Microsoft Teams admin center. However, keep in mind that meeting participants will not be able to view zoom controls while using the watermarking feature during Teams meetings.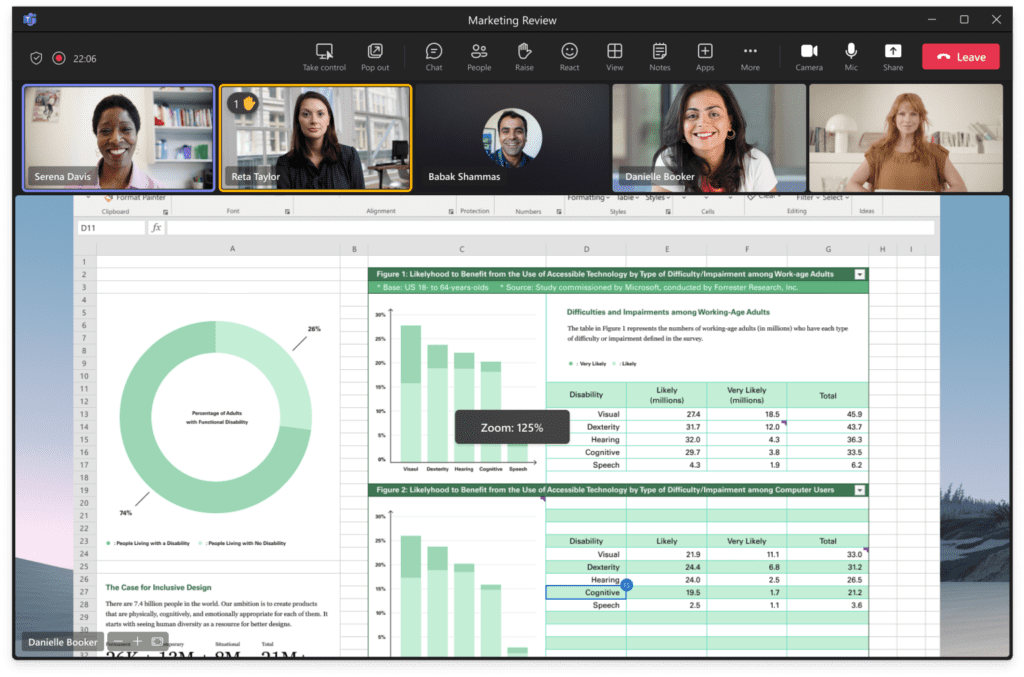 Microsoft Teams zoom controls available for desktop and web users
As of this writing, the feature is only available in the Microsoft Teams app for Windows, macOS, and web app. It remains to be seen if Microsoft plans to add zoom controls to the Teams mobile clients.
In related news, Microsoft is getting ready to make the new Teams 2.0 client the default experience on Windows later this year. Last week, Microsoft Product Lead for Teams 2.0 Anupam Pattnaik confirmed in the first episode of Petri's UnplugIT podcast that the app is also coming in preview to macOS, the web, and other platforms later this year.
Microsoft Teams 2.0 debuted in public preview on Windows back in March 2023. The app has been rebuilt from the ground up to improve performance and reduce power consumption on Windows devices.
The post Microsoft Teams Meetings Get New Zoom Controls to Improve Screen Sharing appeared first on Petri IT Knowledgebase.